/
International Programs
/
Global Networks and Partnered Universities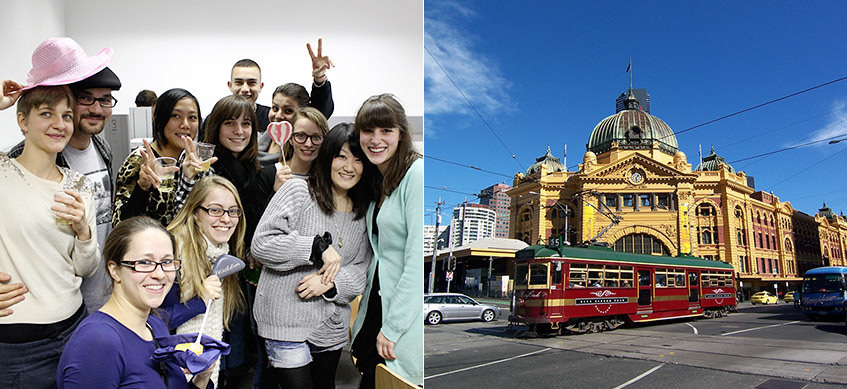 Global Networks
In order to produce artists and designers who can contribute to the world, at Kyoto University of the Arts, we promote international exchange with our students and faculty through partnerships with art universities around the world. We offer various programs including "Student Exchange Program," which lasts approximately half a year, as well as international projects with affiliated schools and language study or art/design-related research trips.
Furthermore, we are accepting more and more international students from neighboring Asian countries and around the world. In co-operation with our affiliated schools, the Kyoto Institute of Language and Culture and the Kyoto Institute of Culture and Language, we organize events where international and Japanese students can interact throughout the year. From 2012, our office in Shanghai, China, was established, and now there are a total of three overseas offices, including those in Korea and Taiwan.
As part of an international art/design education network, we have been part of the ALIA (Asian League of the Institutes of the Arts), the Asian version of ELIA (European League of the Institutes of the Arts), with our school being the head administrative institution from the 2012 academic year. The first Board of Directors meeting was held in June of 2013, and also an international symposium in December of the same year. We hope to contribute to international exchange in arts education while sharing our school's principles with the world.
Partner Universities
Kyoto University of the Arts is currently partnered with 40 institutions in 17 countries around the world. Of those, we have agreements with 22 institutions in 12 countries for the Student Exchange Program, as well as joint international workshops and research tours, among others. (April 1, 2021)
Partner Institutions with Student Exchange Program
Korea
Taiwan
Austria
Switzerland
Czech
Germany
Finland
France
United Kingdom
Italy
Sweden
United States
Partner Institutions
China
Korea
Taiwan
Malaysia
Indonesia
Singapore
United Kingdom
Mexico
United States